The Case for Coming to School: One Simple Approach to Improving Attendance
School is so much more than just a place to be. It's a place to become. Students who come to school regularly have far better options and opportunities open to them.
In our eBook on improving attendance, you will learn:
Why communication is an important piece of the solution to chronic absenteeism

Proven school communications strategies you can start implementing today to build back attendance

Tools that can help reduce absenteeism rates

H

ow to shape a culture of showing up
There are lots of problems out there out of our control, but our school communities are ours to shape. Download our eBook to learn more!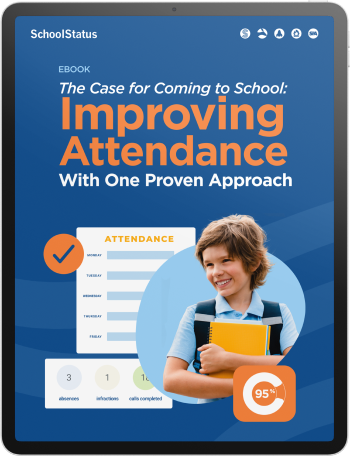 A 2020 report by the National Bureau of Economic Research found students who attend school regularly are more likely to have higher academic achievement, higher future earnings, and better health outcomes.
We have the intel. Let's communicate it in a way that resonates.
"I love that I'm able to see all of my students' information in just a few clicks! This school year we added the ability to call and text through SchoolStatus and that was a game changer! Parents no longer had my personal phone number but they were still able to contact through me through text."